Existing Subscriber?
Sign in to continue reading.
New to Scrip?
Start a free trial today!
---
Register for our free email digests:
Partnered Content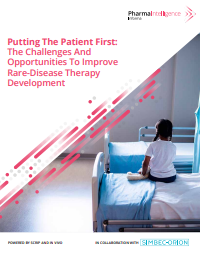 Advances in identifying the genetic causes of diseases, and particularly cancers, coupled with regulatory incentives to encourage the development of therapeutic approaches to once poorly managed orphan diseases have fueled a surge in exciting new medicines.
Articles & Features
Classical, randomized placebo-controlled efficacy studies of vaccines for seasonal illnesses, such as influenza and respiratory syncytial virus (RSV), must conform to the calendar and run like clockwork. Typically, they are very large studies – with tens of thousands of subjects – and operate within a compressed timeframe dictated by the respiratory season. Thus, they cannot be undertaken as "business-as-usual," but rather require accelerated processes, rapid decision-making, and a different approach to risk. Here, we outline the challenges in these studies and share our recommendations for study planning, enrollment, surveillance and study closeout. With the right planning and support, these challenging studies can be completed successfully within the narrow seasonal window.
The deadline is fast approaching for biological products approved as New Drug Applications (NDAs) in the US to transition to Biologics License Application (BLA) approvals under the Biologics Price Competition and Innovations Act of 2009 (BPCIA). As of 23 March 2020, NDAs for insulins, human growth hormones, and other proteins authorized under Section 505 of the Federal Food, Drug and Cosmetics Act (FFDCA) will be 'deemed to be biologics licenses', and regulated as such, by the US Food and Drug Administration (FDA) under the Public Health Services Act (PHSA).
The continuing interest in cell and gene therapies is reflected by the 800+ active investigational new drug (IND) applications within the field that are on file with the US Food and Drug Administration (FDA).1 This trend is only set to increase, with the FDA foreseeing the approval of 10–20 cell and gene therapy (CGT) products per year by 2025.2
The pace of innovation in oncology, with aggressive drug development, new approaches such as immunotherapies, increasing patient segmentation and multiple drug targets even within a single cancer type demands equally creative responses from regulators. The US Food and Drug Administration (FDA) has expedited cancer-drug development through mechanisms and incentives such as the accelerated approval program, the breakthrough therapy designation and the Orphan Drug Act. Associated initiatives such as adaptive study endpoints, reliance on earlier evidence supplemented by real-world data and less complex trial designs have helped to ease the pathway for cutting-edge cancer therapies.
The German tech company LabTwin is launching its voice-activated (VA) lab assistant at BIO in Philadelphia in June. The technology is a game-changer for scientists working in labs and is a major advance in the digitization of the laboratory.
The critical time for many drug development companies frequently comes after successful clinical trials, during the regulatory approval process, and beyond. Moreover, the 2018 survey Formulation in the Drug Product Development Process found that formulation issues had led to project failure and significant delays during drug product development.
To position themselves for success, life sciences companies must accelerate their agendas on two fronts: the creation of focused business models and the acquisition of disruptive, digital capabilities.
The life sciences industry's commitment to digital transformation is increasing, but few organizations are digitally maturing. Here's how companies can take an enterprisewide approach to digital transformation.
See All
eBooks

Pharmaceutical Development And Manufacturing: Challenges And Opportunities

Download PDF

Taming the Deluge: How Automation and Real-Time Data Access Will Reshape Clinical Trials

Download PDF
Trends in Generics 2019
Download PDF
Pharmaceuitical Development Manufacturing Challenges and Opportunities
Download PDF
Pharma Asset Insights eBook
Download PDF
Clinical Solutions In The Digital Era: Why OEMs Are Partnering To Deliver Breakthrough Technologies
Download PDF
Cell Therapy
Download PDF
Drug Safety eBook
Download PDF
Research Reports

Value-Based Care: How to Enable The Medical Device Organization of the Future

Download PDF
Achieving Launch Excellence In The Challenging Healthcare Markets Of Today
Download PDF

Research Report: Challenges And Opportunities In Clinical Data Management

Download PDF
Addressing the Data Challenges of Pharmacovigilance
Download PDF
How to Efficiently Manage Clinical Trial Comparator Sourcing Challenges
Download PDF
Value-Based Care: How To Enable The Medical Device Organization Of The Future
Download PDF
Videos
Clinical Trial Randomization and Supply Management Systems of Tomorrow
View Video
Addressing the Data Challenges of Pharmacovigilance
View Video
Webinars
Optimizing Clinical Trials for Commercial Success
Register
It's Never Too Late: Improve Clinical Trial Processes with a Unified Platform
Register
Realizing The Opportunity To Increase Quality And Improve Efficiency Of Safety Data Collection Within Patient Support Programs
Register
The Current State of Gene Therapy Trials
Register
Future Directions - Formulation in the Drug Development Process
Register
The Template for a Successful Digital Trial
Register
Pediatric Drug Development: Unique Considerations and Challenges
Register
Simplifying Regulatory Processes For Post-approval Changes With Unified RIM
Register
More Patients, Faster. The Next Evolution Of Oncology Drug Development
Register
Disrupting The Status Quo Of eClinical Identity Management: Removing The Burden At Clinical Trial Sites
Register
Does the UK's Life Sciences Industrial Strategy And Sector Deal Make Brexit Easier to Swallow?
Register
Addressing Key Challenges In The Clinical Development Of Combination Immuno-oncology Therapies
Register
eConsent: Better For The Patient, Better For The Site
Register
What's Next In eCOA? - New Insights Into Equivalence Testing Methodology And Implications For BYOD
Register
Using Innovative Materials To Drive Medical Device Design
Register
Using Innovative Materials To Drive Medical Device Design - Part 2
Register
Body Fluids Analysis With Linearity Down to Zero
Register
Modernising Clincal Trial Processes
Register
Optimizing Medtech Companies For A New Era
Register
2020: Top MedTech Priorities. Critical Action Steps Forward
Register
A Patient-centric Approach to Digital Value Added Medicines
Register
Whitepapers & Special Reports
Finding Growth In A Tough Environment
Download PDF
Delivering Patient-centric Care with Digitalization in MedTech
Download PDF
How Medtech is Responding to Changes Set To Reshape the Industry
Download PDF
Harnessing AI And Machine Learning To Improve R&D Efficiency And Reproducibility
Download PDF
Use of Real-World Evidence Expands To Transform Drug Development
Download PDF
Boosting R&D Productivity With Pooled CRISPR Screening
Download PDF
One Route, Many Languages: Managing Translation Complexities in the EMA Centralised Procedure
Download PDF
Infographic: Managing Clinical Trial Data In An Era Of Abundant Information
Download PDF
Releasing The Potential: How Novel Drug Delivery Technologies Can Deliver Competitive Advantage In The Solid Oral-dose Sector
Download PDF
How To Run Successful Clinical Trials In Japan
Download PDF
Releasing The Brakes: How New RTSM/IRT Solutions Will Accelerate Drug Development
Download PDF
Biosimilars Review: Impact of increasing Global Competition on Biosimilars
Download PDF
Achieving Translation Quality Through Process Design
Download PDF
Managing Cold Chain Risk Through Appropriate Packaging: One Size Doesn't Fit All
Download PDF
Optimizing Global Safety Reporting in Clinical Trials
Download PDF
Special Report Disruptive Innovation – The Impact
Download PDF
Getting The Words Right: Device Documentation And Translation in Asia
Download PDF
Precision Medicine Research: How Advanced Data Analytics Support The Journey From Clinic To Bedside
Download PDF
Getting It Right – Drawing Together Key Stakeholders To Shape The Real-World Data Revolution
Download PDF
Accelerating Cancer Drug Development
Download PDF
Improving Pharma R&D Efficiency: The Case for a Holistic Approach to Transforming Clinical Trials
Download PDF
Meeting Growth Challenges Roundtable
Download PDF
Innovation UK: Pushing life science frontiers in the North of England
Download PDF
Medical Devices Aren't Luxury Goods, So Why Does Medtech Try to Sell Them That Way?
Download PDF
Translating Innovation Medtech Made Local
Download PDF
Positioning Key Accounts at the Center of Medtech's Commercial Model
Download PDF
Assessing Patient Availability
Download PDF
Adaptive Design Years Later; What have we learned?
Download PDF
Applying Disruptive Innovation in CNS Clinical Trials to Reduce Variability
Download PDF
Cell And Gene Therapy Rapid Approvals Can Pose Commercialization Challenges
Download PDF
Successful Linguistic Validation of Clinical Outcomes Assessments
Download PDF
Generics In The US 2018
Download PDF
Improving Subject Selection and Endpoint Management in Alzheimer's Trials
Download PDF
RTSM/IRT: A Roadmap For Developing Systems That Address Current Frustrations
Download PDF
Addressing the Data Challenges of Pharmacovigilance
Download PDF
Meeting the Challenges of HPAPI Production
Download PDF
FROM HUMAN TO MACHINE: AI And RPA Are Kick-Starting Productivity To Fuel Medical Breakthroughs
Download PDF
A Reflection On BTD And RMAT Designations
Download PDF
BLURRED LINES: Is The Generics Industry Moving Into Big Pharma's Space?
Download PDF
Email Article
All set! This article has been sent to my@email.address.
All fields are required. For multiple recipients, separate email addresses with a semicolon.
Please Note: Only individuals with an active subscription will be able to access the full article. All other readers will be directed to the abstract and would need to subscribe.